B.V.O.C. Honors All Our Military Families
Some join the military and do their patriotic duty and there are some who make a career out of the military. They dedicate their lives to the security of our nation, and we are all thankful for their service. And along with this devotion comes a family that will stand by their family military members. These families travel to destinations where they must learn the language and customs, as many go to US installations all over the world.
These families are uprooted and have to try and create a family life with many obstacles to overcome. The spouses have to leave jobs and find new employment, the children leave friends and loved ones with every move to a new life on a new base or in a strange town. There are new schools, and new activities and they accept this role of being in a military family. What was a two-parent family suddenly becoming a single-parent family when a spouse is deployed to places of conflict.
And should a vet come home not in the same condition he or she left, these families step up to help care for their returning veteran. The VA helps a lot, but families are still heavily involved with the care and comfort of their returning vet. The day-to-day care that the vet may need. Feeding and hygienic care that is required. Maintaining a good quality of life for their loved ones.
We at B.V.O.C. want to acknowledge the sacrifices that military family members make. And on August 12, we wish to honor them for all that they do. All the sacrifices they make and the love of veterans and the country that they show on a daily basis. We hope you can join us, especially if you were part of a military family. We hope businesses will join in as well and thank you for hiring veterans. Please call and join us to help celebrate, we want to show our appreciation to these families that have given so much.
Thank you,
Executive Director,
Gumersindo "Sarge" Gomez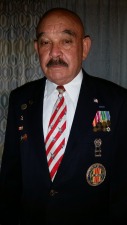 Welcome to Bilingual Veterans Outreach Centers of Mass. Inc.
Bilingual Veterans Outreach Centers of Massachusetts, Inc., located at 281 Franklin Street in Springfield is the only veterans outreach center with a VA/VVA Accredited Service Officer serving veterans and their families throughout Western Massachusetts and is the only known veterans outreach center in Western Massachusetts.
Gumersindo, along with other Vietnam Veterans from Boston founded the Puerto Rican Veterans Association of Massachusetts Inc. on July 1st, 1987 in which today is formally known as Bilingual Veterans Outreach Centers of Massachusetts, Inc.
The Bilingual Veterans Outreach Centers of Massachusetts, Inc. is open to any and all Veterans of all Wars, conflicts, peace time service and all Eras. The Center is here to help you and your families in any way we can, we are here for you.
We Serve...Because You Served!