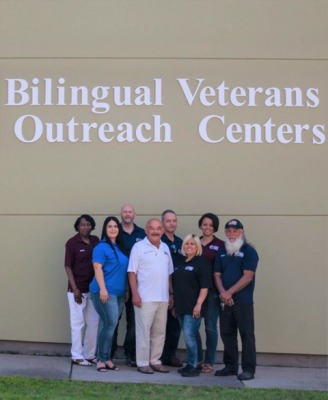 The Staff
Mr. Gumersindo Gomez
EXECUTIVE DIRECTOR VA/VVA ACCREDITED SERVICE OFFICER 20 YEAR VETERAN (RETIRED) U.S. ARMY sgtgomez@aol.com Born in Sabana Grande Puerto Rico, Gumersindo Gomez left Puerto Rico for New York City in January of 1966. He joined the U. S. Army June 30, 1966 and spent the next 20 years serving his country. Assigned to the 196th Light Infantry Brigade, 3rd Bn 21st Infantry, Gumersindo served one year in Vietnam. Leaving Vietnam in 1967, Gumersindo did tours of duty in Germany for six years, Fort Dix New Jersey for nine years and Fort Ord California for one year, ending up in the Republic of Honduras for the remainder of his term. After 20 years of service, Gumersindo retired and came to live in Springfield Massachusetts marrying his wife Eva Gomez a native of Springfield. Enjoying his marriage, Gumersindo has three sons and a daughter.
After arriving in Springfield in August of 1986, Gumersindo, along with other Vietnam Veterans from Boston founded the Puerto Rican Veterans Association of Massachusetts Inc. on July 1st, 1987 in which today is formally known as The Western Mass Bi-lingual Veterans Outreach Center of Western Massachusetts.
The Western Mass Bi-lingual Veterans Outreach Center, located at 281 Franklin Street in Springfield is the only veterans outreach center with three VA/VVA Accredited Service Officers serving veterans and their families throughout western Massachusetts and is the only known veterans outreach center in western Massachusetts.
This non-profit Veterans Outreach Center runs two Homeless Veterans Transitional Homes, The Jorge Oterro Barreto Homeless Veterans Transitional Home and The single efficiency rooms at the YMCA both in Springfield housing and feeding a total of 34 homeless veterans throughout the year. The PRVA is the only known non-profit Puerto Rican Veterans Outreach Center serving veterans and their families with tax dollars in the continental United States and Puerto Rico.
This organization serves
70% Caucasian
25% African American
5% Hispanics and others
In 2001 the Outreach Center was successful in bringing into Western Massachusetts 1.5 million dollars in claim money to veterans, 1.7 million in 2003, 2 million in Fiscal Year 2004 and in the Fiscal Year 2005 the Center achieved a record high of 3 million and 54 thousand dollars in claim money for veterans.
In July 2007, Gumersindo Gomez expanded his outreach center with a second Bi-lingual Veterans Outreach Center in Boston located at 719 Tremont Street.
Visit The Bi-lingual Veterans Outreach Center at 281 Franklin Street, Springfield, Mass. or 719 Tremont Street, Boston today.
IF YOU ARE FREE, THANK A VETERAN
Betty Borders
United States Air Force Veteran
Born in Queens, N.Y. and Raised in Springfield, MA Betty Borders is the product of a military family. As a Graduate of the High School of Commerce Ms. Borders furthered her education in 1970, by obtaining her B.A. in French and Spanish with a Minor in Education.
Ms. Borders enlisted in the United States Air force in 1976 as a Personnel Career Field Specialist (3 yrs enlisted staff & 12 ½ yrs officer staff) and was Honorably discharged in 1992.
Before coming to the Bilingual Veterans Outreach Center Ms. Borders enjoyed a career as a Foreign Language Teacher from 1996 to 2006. The oldest of 5 siblings Ms. Borders has one daughter and two granddaughters and enjoys singing in the church choir and teaching Youth Sunday School, reading and traveling.
Bringing her vast and divers skills and talents to the Bilingual Veterans Outreach Center. Ms. Borders is a welcome addition to the team!
Evelyn (Maldonado) Martinez
Evelyn (Maldonado) Martinez is a Case Manager with the Bilingual Veterans Outreach Center. A Veteran of the United States Army, she served from May 6th, 1981 to May 5th, 1987 and was a Spec 4 Administration Specialist. She is a Life Member of The Associates of Vietnam Veterans of America and has successfully completed Basic Training Course in Veterans' Benefits presented by National Veterans Legal Services Program. She is now a VA/AVVA Accredited Service Officer.
Born in Las Piedras Puerto Rico, Evelyn moved to Springfield, Mass. in 1966, attended local schools and graduated from the Manatee Area Adult High School in Bradenton, Fla. She has worked for the Springfield Public School System and retired from The Republican Newspaper as an Advertising Assistant. She is a mother of 4 and Grandmother of 10.
Evelyn also served as a member of the Bilingual Veterans Outreach Centers "Board of Directors" for 12 years. She is a school volunteer in the "Read Aloud" Program, where she reads stories to elementary school children at Lincoln School once a month.
Mark McClarty
Mark McClarty, a 4 Year Naval Veteran joined the Naval service at age nineteen and served in the Persian Gulf. He circumnavigated the globe on the USS Halsey CG-23 during two major deployments.
Mark has 3 Years of experience as a Veterans Case Manager and is a AVVA lifetime member and Certified Office Assistant.
Edwin Colon
Maintenance worker for Jorge Otero Barreto Transitional House
Lisa Polidoro
Berkshire Veterans Outreach Center / Program Secretary/Office Manager
---
Steve Schultze
Berkshire Veterans Outreach Center / Case Manager
---
Lieutenant Colonel (Retired) Steve Schultze was born in Belleville, New Jersey. He enlisted in the United States Marine Corps on May 28, 1997 as an 0311, Basic Infantryman. He graduated from USMC Boot Camp at Parris Island, S.C. in August of 1997. Then Private First Class Schultze went on to complete his basic training at the School of Infantry at Camp Geiger, N.C. in the fall of 1997.
In 1998, then Corporal Schultze was selected for the Enlisted Commissioning Program. After successfully completing Officer Candidate School at Quantico, VA, he was commissioned a Second Lieutenant. After attending The Basic School in Quantico in the fall of 1999, then 2ndLt Schultze was selected and trained to serve as a Logistics Officer.
LtCol (Ret) Schultze served in numerous billets throughout his career. As an enlisted Marine, he served as a basic rifleman, Squad Automatic Weapon (SAW) Gunner, and Radio Transmission Operator (RTO). As an Officer, he served as a logistician, civil affairs operations officer, Aviation Ground Support planner, monitor in manpower management, executive officer, and multiple operations officer tours. In addition, LtCol (Ret) Schultze had the honor and privilege of commanding at the platoon, company, and squadron level, with his final command being of Marine Wing Support Squadron 271 at Marine Corps Air Station, Cherry Point from June 2016 to June 2018.
LtCol (Ret) Schultze deployed to Thailand, Okinawa, and Norway for training and to Iraq and Afghanistan in support of combat operation. During his career he earned numerous military awards and decorations to include the five Meritorious Service Medals. In Oct of 2019, after over 22 years of active duty service, LtCol (retired) Schultze retired.
LtCol (Ret) Schultze earned a Bachelors Degree in Political Science from Rutgers College and a Masters Degree in Military Studies from the Marine Corps University. He works as a case manager for the Berkshire Veterans Outreach Center in Pittsfield, Massachusetts and resides in Otis, Massachusetts with his wife and children.